How it works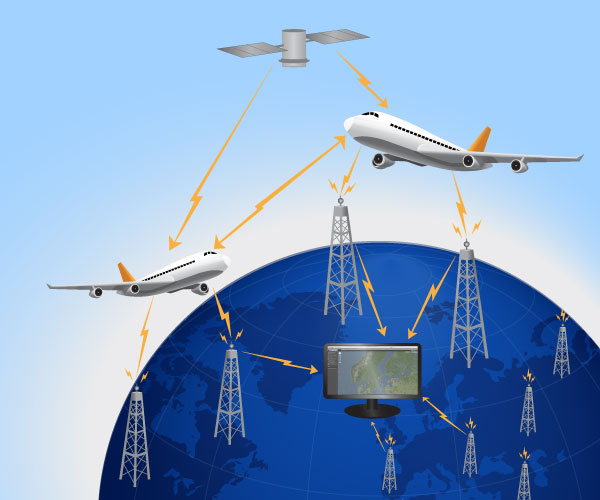 Flightradar24 shows live air traffic from around the world. The primary technology we use to receive flight information is called automatic dependent surveillance-broadcast (ADS-B). The ADS-B technology itself is best explained by the image to the right.
Aircraft gets its location from a GPS navigation source (satellite)
ADS-B unit on aircraft transmits signal containing about the location (and much and more)
ADS-B signal is picked up by a receiver connected to Flightradar24
Receiver feeds data to Flightradar24
Today, roughly 60% of all passenger aircraft (70% in Europe, 30% in the US) are equipped with an ADS-B transponder. This percentage is steadily increasing as ADS-B is set to replace radar as the primary surveillance method for controlling aircraft.
In addition to ADS-B data, we also get data from the Federal Aviation Administration (FAA) in the United States. This data is based on radar data and includes all commercial air traffic in US and Canadian air space (i.e. not just planes with ADS-B transponders). Unlike the ADS-B data that is presented real-time, the FAA data is delayed by roughly 5 minutes due to FAA regulations. On the Flightradar24 map, all planes based on FAA data are orange.
Aircraft on Flightradar24
Common aircraft models that have an ADS-B transponder and are visible on Flightradar24:
All Airbus models (A300, A310, A318, A319, A320, A321, A330, A340, A380)
ATR 72-600 (most new deliveries)
BAe ATP
BAe Avro RJ70, RJ85, RJ100
Boeing 737, 747, 757, 767, 777, 787
Embraer E190 (most new deliveries)
Fokker 70 and 100
Gulfstream V, G500/G550
McDonnell Douglas MD-10, MD-11
Sukhoi SuperJet 100
Some newer Ilyushin and Tupolev (for example Il-96 and TU-204)
Common aircraft models that do not have an ADS-B transponder and are NOT visible on Flightradar24:
Antonov AN-225
ATR 42, 72 (except most new deliveries of ATR 72-600)
Boeing 707, 717, 727, 737-200, 747-100, 747-200, 747SP
All CASA models
All Bombardier Dash models
All Bombardier CRJ models
Dornier 328
All Embraer models (except most new deliveries of Embraer E190)
Jetstream 32
Fokker 50
McDonnell Douglas DC-9, MD-8x, MD-90
Saab 340 and 2000
"Air Force One"
Most older aircraft
Most military aircraft
Of course, there are lots of exceptions. For example one Lufthansa CRJ900, one LOT ATR-72, one Wideroe Dash, some MD8X from Onur Air, some Saab 340 in Australia and several private Cessnas are visible. There are also some older A300, A310, A320, B737, B747, B757, B767 aircraft flying without and ADS-B transponder, which make those aircraft invisible on Flightradar24.